Crans-Montana Football Camps
Presentation Crans-Montana Football Camps Association
Crans-Montana Football Camps is an association dedicated exclusively to football and is proud to be the official partner of the destination Crans-Montana. Our association has specialised for many years in organising training camps, international matches and tournaments in Crans-Montana, in the canton of Valais, in the heart of the Swiss Alps.
To help you organize your camp and accompany you throughout your stay, you will be in contact with our CEO, Walter Loser and his team. Walter has over 20 years of experience in the marketing and tourism industry. He is a seasoned international executive with strong leadership, communication and networking skills. He has a global mindset and is multilingual (French, German, English, Italian).
The team is completed by Marilyne Emery as Assistant Manager who has been accompanying Walter for several years. During the summer, freelance assistants are hired to provide permanent assistance to the teams, both during training sessions and soccer matches.
From 2010 to today, Walter and his team organize international training camps and soccer tournaments in Crans-Montana with world-class soccer teams.
Discover our training camp packages:
Whether you are a professional, amateur or junior football team, book now your training camp at Crans-Montana.
Click below to see our "football package" offers:
CMFC Flyer Professional team package
CMFC Flyer en packages amateurs and juniors teams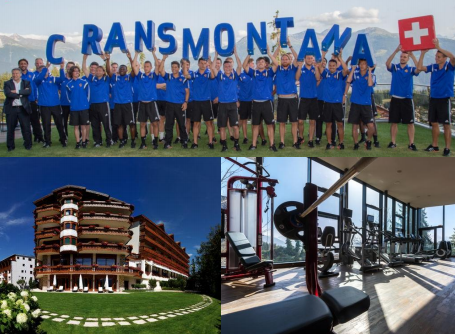 Contact us today to organize your training camp at altitude during the 2023 summer season. We look forward to introducing you to our wide range of hotels, all ready to welcome you in the Valais resort of Crans-Montana. We would also be delighted to show you all our activities and sports facilities for professional, amateur and junior soccer teams.
Contact:
Crans Montana Football Camps Association
c/o Walter Loser (President & CEO)
Tel: on request by e-mail
E-mail: walter.loser[at]gmail.com

2022 Season Overview - Teams in Camp and Organized Matches
20.07. to 23.07.2022        Servette FC women (training in Bluche "Les Palettes")
05.07. to 08.07.2022        Grasshopper U21 (training in Bluche "Les Palettes")
04.07. to 08.07.2022        FC Champel juniors (Noble-Contrée site in Mollens)
01.07. to 09.07.2022         FC Dynamo Kiev (Christ the King stadium in Lens)
27.06. to 01.07.2022         Grasshopper Club (GC) ZürichA team (training in Bluche "Les Palettes")
21.06. to 25.06.2022         FC Server (training in Bluche "Les Palettes")
16.06. to 19.06.2022         Team La Sonnaz (la Moubra, Crans-Montana)
15.06. to 25.06.2022         FC Sion (Christ-Roi stadium in Lens)
Football matches
23.07.2022 at 18:00 Servette FC Féminin vs. FC Sion Féminin (Le Christ-Roi stadium in Lens)
08.07.2022 at 15:00 GC U21 vs. FC Sion U21 (Christ-Roi stadium in Lens)
06.07.2022 at 18:30 Dynamo Kiev vs. FC Sion U21 (Le Christ-Roi stadium in Lens)
25.06.2022 at 16.00 Gala match FC Sion vs. Servette FC (Christ-Roi stadium in Lens)